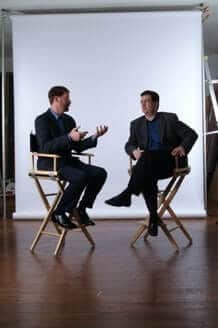 Joe Pine and Jim Gilmore founded Strategic Horizons LLP in 1996 as a thinking studio dedicated to helping companies conceive and design new ways of adding value to their economic offerings through innovative strategies that primarily focus on customer experience.
As business thought leaders, Pine and Gilmore act as provocateurs, planting the seeds of change and challenging traditional business assumptions.
Through their deep personal experience pointing out emerging market phenomena and introducing new questions and frameworks that drive companies to view themselves, from a fresh perspective, they prepare clients for the future and how to thrive.
For over 20 years we have been the "first voice" of the concepts we talk about – leading from the front and breaking new ground with wholly original thinking.
Opportunities
Through a variety of Strategic Horizons offerings including keynote speeches and workshops, multi-day Learning Excursions and Learning Encounters, and public and private Experience Economy Expert Certification courses, Pine and Gilmore educate you with the lessons they've learned in their own experiences.
We share models and tools to help clients explore how to generate economic value in ways that are aligned with a strong customer-centric strategy. With each experience you will learn how to better engage your customers, build revenue, and grow your business.
These aren't standard business offerings. These are interactive, exciting, collaborative learning experiences that leave you ahead of where you were when you walked in and ahead of the competition.
Ideas
Strategic Horizons clients appreciate not just what we know, but how we think.
We bring over two decades of rich professional and life experiences to our work. Each of the excursions, encounters, and experiences with Strategic Horizons leaves you learning new information and moving forward faster than you thought possible.
With very specific expertise and unique points of view that can be directly applied to helping clients attain the future they desire, we encourage you to think outside the box and expand your horizons. Ultimately, clients hire us because they think differently when they are with us – and continue to do so long afterward.

With Strategic Horizons and Pine and Gilmore, learning the new ways to grow your business and flourish in the future is one experience away.