Look: A Practical Guide for Improving Your Observational Skills
(Greenleaf Book Group Press; 2016)
An exciting new work from Jim Gilmore. In his latest book, Look: A Practical Guide for Improving Your Observational Skills, Gilmore introduces a metaphor of ''six looking glasses.'' Each looking glass represents a particular skill to master in order to enhance the way we look at the world. Gilmore helps readers grasp the Six Looking Glasses by including helpful everyday examples and practice exercises throughout. Put into practice, this method of looking will help you see the world with new eyes.
The Experience Economy: Updated Edition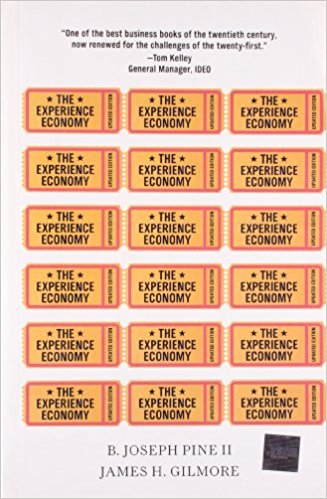 (Harvard Business Review Press; 2011)
In 1999, Joseph Pine and James Gilmore originally offered this idea to readers as a new way to think about connecting with customers and securing their loyalty. And though the world has changed in many ways since then, the way to a customer's heart has not. In fact, the idea of staging experiences to leave a memorable—and lucrative—impression is now more relevant than ever. With this fully updated edition of the book, Pine and Gilmore make an even stronger case that experience is the missing link between a company and its potential audience.
Authenticity: What Consumers Really Want
(Harvard Business Review Press; 2007)
Contrived. Disingenuous. Phony. Inauthentic. Do your customers use any of these words to describe what you sell—or how you sell it? In Authenticity, James H. Gilmore and B. Joseph Pine II argue that to trounce rivals companies must grasp, manage, and excel at rendering an authentic experience. The first to explore what authenticity really means for businesses and how companies can approach it both thoughtfully and thoroughly, this book is a must-read for any organization seeking to fulfill consumers' intensifying demand for the real deal.
---
Infinite Possibility: Creating Customer Value on the Digital Frontier
(Berrett-Koehler Publishers; 2011)
Digital technology offers limitless opportunities—you really can create anything you want—but real-world experiences have a richness that virtual ones do not. So how can you use the best of both in today's Experience Economy? How do you make sense of such infinite possibility? What kinds of experiences can you create? Which ones should you offer? In Infinite Possibility provides a profound new tool geared to exploring and exploiting the digital frontier. Using scores of examples, the book shows how innovative companies operate within and across digital realms to create extraordinary customer value.
Mass Customization: The New Frontier in Business Competition
(Harvard Business Review Press; 1992)
The Mass Production of standardized goods was the source of America's economic strength for generations and became the model for successful industries. Today, that model is a major cause of the nation's declining competitiveness. Innovative companies are embracing a new paradigm of management – Mass Customization – that allows them to individually customize their goods and services at competitive prices or better. The book details the strategies, methods, and organizational transformations required to develop, produce, market, and deliver individually customized goods, experiences and services on a high-volume basis, and shows managers how to analyze their own industries to determine if they should shift to Mass Customization.
Markets of One: Creating Customer-Unique Value Through Mass Customization
(Harvard Business Review Press; 2000)
This collection of ten Harvard Business Review articles - edited by, and with an introduction from, Pine & Gilmore - chronicles the evolution of business competition from mass markets to markets of one. In other words … from creating standardized value through Mass Production to creating customer-unique value through Mass Customization. The book examines many of the resulting changes in approach to strategy and operations – for example, moving from pushing products to fulfilling individual needs, moving from focusing solely on market share to measuring customer share, and moving from marketing to the masses to cultivating learning relationships with each customer.
---
Pine & Gilmore's Field Guide for the Experience Economy
(Strategic Horizons LLP; 2011)
Geared for a wide variety of uses - from group learning and executive education, to university classes, employee training, and even leading your own Learning Excursions, Pine & Gilmore's Field Guide for the Experience Economy packs powerful lessons in a compact package. This pocket-sized reference contains ten traveling tools to help discerning observers explore and learn from experiences across the economic landscape. A hands-on resource designed to provide real-world learning, the Field Guide contains key models and exercises for evaluating and extracting best principles from experiences throughout the Experience Economy. Copies available on Amazon; for orders of 25 or more, contact Strategic Horizons LLP via email to Explore@StrategicHorizons.com
The Geek Squad Guide to World Domination
Darden Business Publishing; 2009
This interactive DVD-ROM case study of the Geek Squad provides a multimedia resource for anyone who wants to learn to stage compelling experiences. Using a rich mix of more than 80 minutes of educational and entertaining video segments, interactive features, and downloadable content, The Geek Squad Guide to World Domination is filled with thoughtful real-world examples, key insights from both Robert Stephens and Jim Gilmore, and a host of provocations for guiding your own experience design and development efforts.
---