This past January I gave a talk for consulting company Genpact at its International Grow 2020 leadership event in Orlando. With the audience consisting mostly of Genpact's own executives, managers, and leaders – clients making up only a small portion of the participants – I spoke on "Going Beyond Professional Services". Its thrust: consulting companies should not think of themselves as merely in the services business, but need to create engaging client experiences, and most of all to use those experiences to help their clients achieve their aspirations. All consulting companies are really in the transformation business!
Understanding Experience-led Transformation

This engagement came to me because last October Genpact acquired global experience agency Rightpoint, based in Chicago, and it truly understands transformation. Rightpoint has long been focused on "experience-led transformation in the experience economy", and I am now working with founder Ross Freedman and his team to bring the ideas, frameworks, and principles of the Experience Economy to Rightpoint's clients.
The Experience Economy During a Lock-down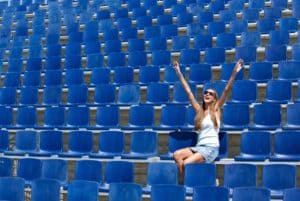 Of course, a lot has changed in the world since January! And ever since governments around the world began self-quarantining citizens and shutting down businesses, I've been asked about what this means for the Experience Economy. After all, it is the experience sector that's been most hard-hit – bars & restaurants, theatres, sporting events, retail, and especially tourism. Basically everywhere people gather together is not a place anyone should be right now!
But as social beings people will always crave experiences. Right now digital experience stagers such as entertainment streaming and gaming platforms are booming, but physical experiences will be back, and the experience you create for your customers will continue to be all important to your success.
So in concert with Rightpoint, I wrote a Point of View Paper for its website on "Experience-led Transformation in Today's Experience Economy". Here I encourage businesses to not just hunker down and merely try to survive, but work now on how to thrive in the years ahead.
You do not want to merely revive your business. No, you should take this time that has been given to you to refresh your places, redesign your offerings, and renew your capabilities.
Jump in now on Experience-led Transformation
It's time for experience-led transformation as Rightpoint rightly calls it. Let the experience you want to stage for your customers be your north star during this time of turbulence, driving you to ensure meaningful business outcomes for your enterprise.
Do read more here: https://www.rightpoint.com/landing-pages/transformation-in-the-experience-economy