This is one of the most amazing new offerings I've ever been a part of! Earlier this month Carnival Corp. announced at the Consumer Electronics Show in Las Vegas that it would be mass customizing guest experiences – enabling each guest to get the cruise experience he or she wants, but doing so efficiently, seamlessly, and amazingly. How did it all happen?
A great hire and a great decision
Well, a few years ago CEO Arnold Donald hired one of the key people behind The Walt Disney Company's MagicBand, John Padgett, with the mission to elevate the experience for every one of Carnival's guests, across each of its 10 brands and over 100 ships. And what a great decision that was.
As Carnival's new Chief Experience & Innovation Officer, John created an Experience Innovation Center in a large empty space in the back of a Miami Herald building in Doral, Florida. He and his team – including a few other Disney ex-pats such as Michael Jungen, now SVP of Guest Experience Design & Technology, as well as a number of new hires and external partners – rolled up their sleeves and began designing a customized experience that goes far beyond what anyone else in the hospitality (or any other industry, for that matter) is doing.
The Ocean Medallion – The center of the individualized experience

The first customization experience begins at home when guests book their cruise. Carnival laser-etches the Ocean Medallion for every individual in the party with the guest's name (as well as ship-specific information on the back), and sends it to their home with an engaging box-opening experience.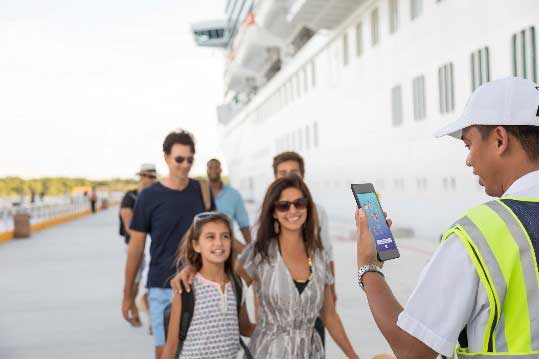 This enables guests to begin planning out their onboard experiences and get "Ocean Ready", meaning Carnival has all the necessary registration information about the guests (including passport data) and the guests have everything they need to get on board. Then, when it comes time to embark, guests simply walk up the plank as a crew member greets them while his tablet reads each Ocean Medallion to match each Medallion record to each guest, and that's it!
Guests no longer have to wait for a time that sometimes stretches into the hours. They don't even have to slow down!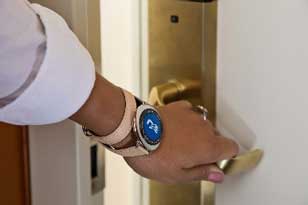 But while the Ocean Medallion is high-tech, guests never experience it as technology – it is just always there with them. So, for example, whenever guests approach their individual stateroom doors, Carnival's readers track their progress and just as the hand reaches for the door lever, it turns green and unlocks, as if by magic. No keycard, no connection process, just simplicity exemplified. The Ocean Medallion similarly enables guest to buy merchandise on board without credit card, other identification, or paper; to locate family and friends wherever they might be on the ship; and partake in interactive gaming and other experiences on board.
Custom Experiences -The real magic of the Ocean Medallion
But the real magic of the Ocean Medallion is in how it lets guests customize their own experiences, and further enables crew members to efficiently serve guests uniquely. Each one is twinned with the guest's personal MedallionClass app, a digital concierge that guests can access on their smartphones, tables, stateroom TV, or hundreds of shipboard monitors.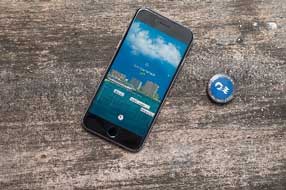 The MedallionClass app enables each guest to access and update his itinerary, which is filled with the experiences he chooses before and during the cruise. No longer is there a mad dash at the beginning of the cruise and each morning to sign up for desired activities – only to discover the one you really wanted just filled up. You can sign up for any experience before you even embark, plus you tell your MedallionClass app your desired interests, and it will send you Personal Experience Invitations that match your interests and the time you in fact have available.
Cultivating 'learning relationships'
And all the while the MedallionClass app is learning more and more about you as an individual, enabling Carnival to cultivate what Don Peppers and Martha Rogers(of CX Speakers) and I call a "learning relationship" (from our 1995 Harvard Business Review article, "Do You Want to Keep Your Customers Forever?"). Learning relationships grow from the customer-centric interactions a company has with its customers, in that every interaction is an opportunity to learn. The company then takes that learning and uses mass customization to maximize its offerings to that individual, living, breathing customer, who thereby benefits by getting only and exactly the experience he wants. Because of these great benefits, the customer wants to interact again, and every interaction is an opportunity to learn!
Yes, privacy is an issue and paramount in Carnival's technology, but experience has shown that people are more than willing to share personal information about themselves when they see the benefit to themselves. And as John Padgett likes to make clear (such as in this TechRepublic interview), Carnival's system isn't like a normal "big data" setup that captures information to benefit the next guest, but works to maximize the benefits to this guest. And over time that learning will spread to each of Carnival's brands and across its entire fleet – enabling one single guest view, mass customized experiences and a learning relationship no matter where the guest interacts with Carnival.
A singularly powerful competitive advantage
This is a singularly powerful competitive advantage, for even if a competitor would (after years of effort) duplicate Carnival's capabilities (as if it would be sitting still), why would a cruise-goer ever switch, when it would have to teach the competitor all over again what Carnival already knows?
With this learning relationship capability guests can, for example, have their food and beverage preferences delivered to them on-demand. And once they order something from their MedallionClass app, they no longer have to wait in that spot for it to arrive; they can go wherever they want and a crew member will find them with their order! They can order items "Here and Now" as they desire, or for later delivery "There and Then", such as a bottle of their favorite wine tableside at the show they're going to that evening.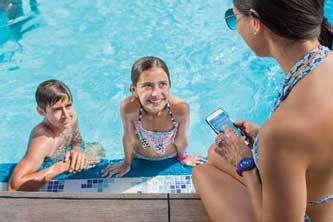 Carnival in fact constantly updates its "Guest Genome" for each and every guest onboard, and can learn such things as when you are on the pool deck with your kids that your favorite beverage is an ice tea with no lemon; that when you are in the bar with your friends, it's a classic mojito, extra-strong; that when you are dining with your wife it is a glass of Shiraz. So Carnival is not only learning about you as an individual, but about each market you happen to be in at that time.
Customization for the multiple markets within each customer
I call this customization not just for the market of one, but for the multiple markets within each customer, who often have different needs, wants, and desires at different moments in time, in different situations. So as I outline in the HBR post Beyond Mass Customization, companies must reach inside of their individual customers and mass customize to whatever market they are in, whatever job they need done at this point in time.
In Carnival's case, this enables the company to, in John's words, "anticipate customer's needs in ways that cannot be expected". It does this by giving all crew members their own Crew Compass that enables them to fulfill each guest's needs in an efficient manner, and lets them focus on the experience of the guest in front of them, on what they do best, rather than on backstage activity that takes time and effort with no real guest benefit.
It is no wonder that when John shared his plans for how Carnival would mass customize its guest experiences that the President of Princess Cruises, Jan Swartz, jumped at the opportunity to be the first Carnival brand to become Ocean Medallion Class. It all begins with the Regal Princess on November 13, 2017.
Internet of Experiences
You can learn even more about this at Carnival Corp.'s official press announcement. And remember where Carnival Corp. made this announcement? At the 2017 Consumer Electronics Show in Las Vegas. Many were wondering what a cruise company was doing at CES, but now it is all clear: Carnival has turned that perennial CES topic of the Internet of Things (IoT) into the Internet of Experiences (let's call it "IoX").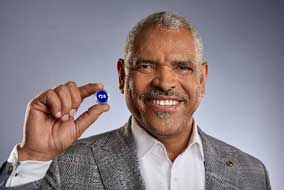 I was honored to be on stage during CEO Arnold Donald's keynote address along with John Padgett, Michael Jungen, and Jan Swartz – as well as Carnival partners Rich Lerz of Nytec, Mark Hadland of Level 11, and Scott Sahadi of The Experience Engine. As I conclude my remarks then, what Carnival is doing is not just smart, it's genius!